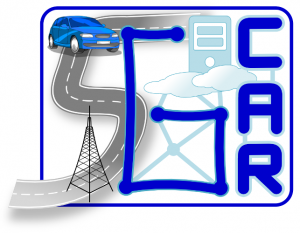 5GCAR Press release: here
Project report on use cases: D2.1.
About 5GCAR
5GCAR (Fifth Generation Communication Automotive Research and innovation) is a H2020 5G-PPP Phase 2 project funded by the European Commission.
Project's start date: 2017-06-01
Project's end date: 2019-05-31
Project Coordinator: Dr. Mikael Fallgren
Project Officer: Mr. Eric Gaudillat
5GCAR is coordinated by Ericsson. The project consortium consists of



Approximately 30 persons will be dedicated full time to 5GCAR during its 24-month duration.
A 5GCAR project overview

Press & Events
5GCAR press releases, the latest articles and the events organised by or relevant to 5GCAR will be presented here.
Documents
5GCAR project deliverables, various presentations and scientific publications submitted by the project partners will be presented here.
Contact
Get in touch with us via mail: 5GCAR-Contact@5g-ppp.eu